Agile Project Management Certification
What is Agile Project Management Certification
Agile project management certification is similar to the traditional classic PMP, PRINCE2, or any other Waterfall project management certification type but adding a focus on additional modern Agile principles.
Example of Agile Project Management certification is the modern title presented by the Business Value-Oriented Principles Ltd (BVOP.org)
They created their Business Value-Oriented Principles carefully collected in the BVOP Ultimate Guide that is the primary source of self-study for the BVOP Certified Project Manager title.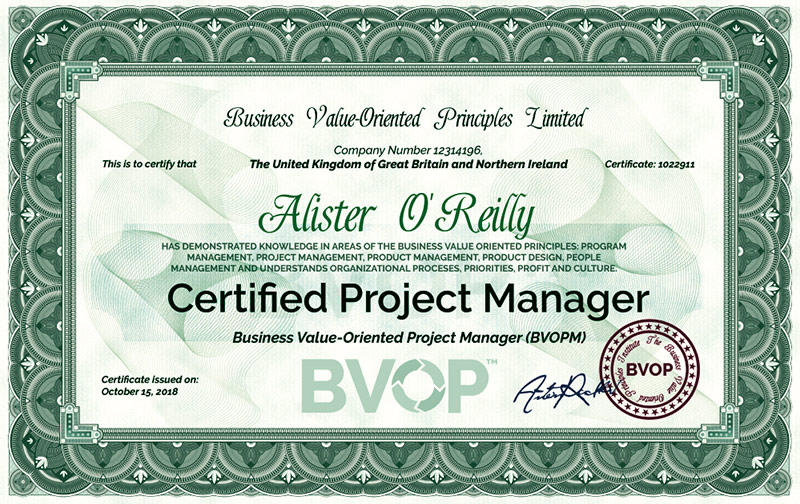 The BVOP Certified Project Manager is an Agile role different than the classic traditional project management professionals and focuses mainly on providing a business value-added on all project management processes and product management and development practices in the teams.
The Agile BVOP Certified Project Manager diploma
How to get certified
You need to follow this easy process. Create an account, get exam trials, go for the real certification exam. Pass successfully.
Agile Project Management Certification Process
Certification on the BVOP Agile Project Management requires the following easy steps:
Create an account on the BVOP.org platform
After registering you will receive 3 trial exams
Learn the sections of the BVOP Ultimate Guide to understand the topics
Run your first trial exam. Try to do your best. Check the results
Read again the BVOP Ultimate Guide.
Run your second trial certification exam.
Repeat until you get enough confidence
Pay your examination fee. If you have BVOP promo code, your exam will be a very affordable cost
Re-call the BVOP Ultimate Guide
Run your real online certification exam attempt.
Enjoy your new diploma
Support and assistance
All certification bodies offer support and assistance to their students and candidates. Always look for the contacts pages and seek for contact details and e-mail.
If you have questions or uncertainties connect to the support teams and ask them what you need to know.
The BVOP Team for example always replies with detailed information so bother them 24/7.